August 15th, 2019
When filled pauses fill pauses—at ICPhS
Summers in Japan are pretty hot. The daily temperature in late July until early September is often in the 30s (Celsius), with the worst days beginning to approach 40. But it's the humidity that really hurts. I step outside and within minutes I have sweat stains on my shirt. So, this summer I decided to go where it's winter—Melbourne, Australia—for the International Congress for Phonetic Sciences (ICPhS). This trip was full of interesting things, with the first being that, coincidentally, the person sitting next to me on my flight was my former colleague from Waseda, Hinako Masuda, now working at Seikei University Faculty of Science and Technology in Tokyo.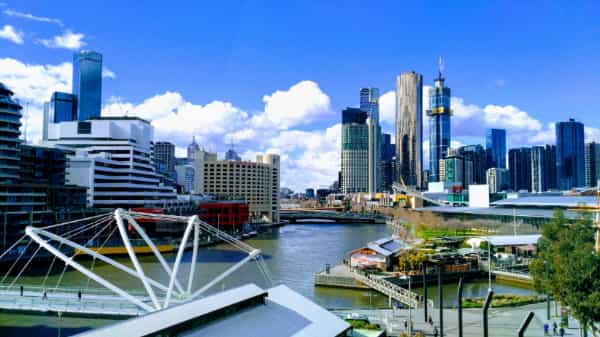 Melbourne was fortunately much colder than Tokyo, as it should be at that time of year, and it was a pleasant change—for the first few hours. Then, it just felt cold. But ICPhS was held at a nice large and warm conference center on the south bank near downtown. There were several great presentations there and I was pleased to see so many posters dealing with various fluency phenomena. Hong Zhang from University of Pennsylvania was there with a poster about silent pause distribution in relation to socioeconomic effects. He's a student of Mark Liberman who makes interesting observations on Language Log blog about filled pauses from time to time. (Not that the observations are only interesting from time to time. Rather the observations are always interesting, but somewhat dispersed.) Hong's poster used heat maps—a common Liberman device.
Another interesting poster was bye Alejna Brugos, Alison Langston, Stefani Shattuck-Hufnagle and Nanette Veilleux on a proposed labelling scheme for prosodic disfluencies based on the ToBI scheme. And my friend Jürgen Trouvain from Saarland University was there with a poster co-authored with Malte Belz (a DiSS acquaintance of mine) talking about his continuing work on the whether "silence" is really "silent". And Emer Gilmartin was there, too, with a poster looking at speech and silence—right up my alley.
In fact, the trip was quite a social gathering for me as it was full of many old friends and acquaintances. Tessa Bent and Elisa Sneed German from my Northwester days were both there. My colleagues from Waseda, Chris Sheppard and Yasuaki Shinohara also gave posters. And I was also please to see collaborators Michiko Watanabe and Kikuo Maekawa there, too.
As for me, my poster (co-authored with Michiko Watanabe) was an exploration of filled pauses. The name, "filled pause" seems to pre-suppose that a speaker pauses during speech production and then, for some reason, opts to "fill" it with some kind of vocalization. This is not a new characterization and many researchers have said something similar including the idea that if a speaker is silent for too long, they will say something to "fill" the pause. Our poster took this as a starting point and looked at whether there could be language-related differences in how long is "too long", as well as whether second language proficiency might influence that threshold.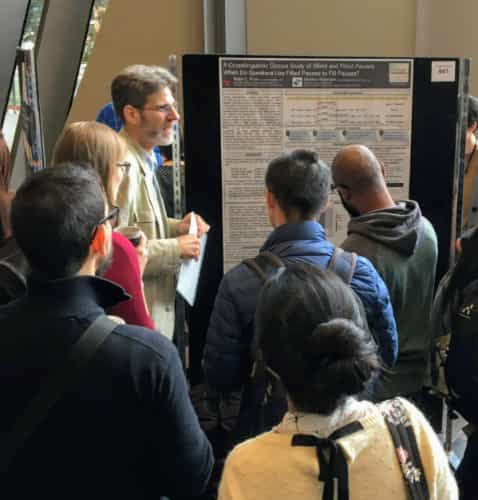 To investigate this, we used Michiko's Corpus of Presentations in English (COPE) and my Crosslinguistic Corpus of Hesitation Phenomena (CCHP) to make various comparisons. Results show that native English speakers seem to have a shorter silence threshold than native Japanese speakers. That is, English speakers are quicker to fill a pause by uttering a filled pause than Japanese speakers (in monologic speech). Furthermore, when speaking in English, high proficiency Japanese speakers of English are quicker to fill a pause than low proficiency Japanese speakers of English. The former difference might be explainable by a different cultural value of silence. The latter difference, though may be more likely explained in terms of the cognitive difficulty that the low proficiency group experiences during L2 speech production which distracts from their notice of the excessive silence duration.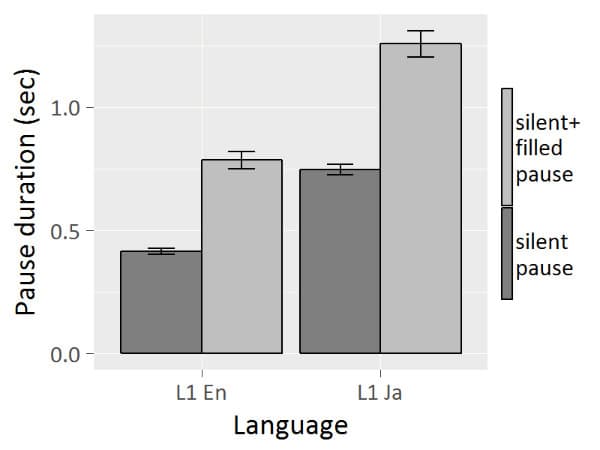 An interesting side note is that this effect was only shown with filled pauses that occur utterance-internally. That is, speakers only really seemed to pay attention to the silence threshold limit if they were pausing in the middle of a sentence. Of course, there is much more work that could be done to explore the silence threshold hypothesis, notably to look at how it takes place in interactive communication, as well as to confirm the cultural explanation with speakers of other languages.
[Note: This post was written in September, 2020. However, in order to preserve the chronology of the blog, it has been dated to reflect when the described events actually took place.]