January 30th, 2018
Yes! Pauses signal structure even in Michigan
This post is a continuation of the past two posts regarding my research project on the relationship between pauses in speech and listeners' perception of syntactic structure. See the first of those posts for the most detailed background and the second for some corroborating results to the first. Briefly though, this research is trying to look extend Bailey and Ferreira's 2003 study on how filled pauses seem to signal syntactic structure: When a filled pause occurs at a clause boundary (i.e., the good condition), listeners are more likely to judge the sentence grammatical. But when it occurs at a non-boundary (the bad condition), then they are more likely to judge the sentence ungrammatical.
My work is to try to extend those findings by looking at silent versus filled pauses, as well as to see whether a similar influence is observable for nonnative listeners. In the past two posts, I presented experimental evidence from two listener groups: native speakers of European Portuguese and native speakers of French. Both of these groups listened to stimuli in English (as did the native English listeners in Bailey and Ferreira's study). The result showed the same pattern of results, with the added observation that silent pauses showed a stronger effect than filled pauses.
The next leg of this project was to look at native English listeners, mainly to attempt to replicate Bailey and Ferreira's findings directly, as well as to see how they react to the silent pause stimuli. So, I have spent a few weeks in central Michigan to do this. Thanks to Prof. Bonita Miller at Spring Arbor University, I was able to recruit and carry out this project with undergraduate students there.
And the results? Well, maybe it's easy to guess, but they came out exactly as predicted. Indeed, there is an exact replication of Bailey and Ferreira's results for filled pauses. So, that's great news. Of course, not just for me, but also for Bailey and Ferreira, because as near as I can tell, this is the first replication of their study. (I'm actually a bit surprised that others have not tried to replicate it. I must be missing some of the literature where those replications have been published.)
Fig. 1. Results (n=30): Proportion judged grammatical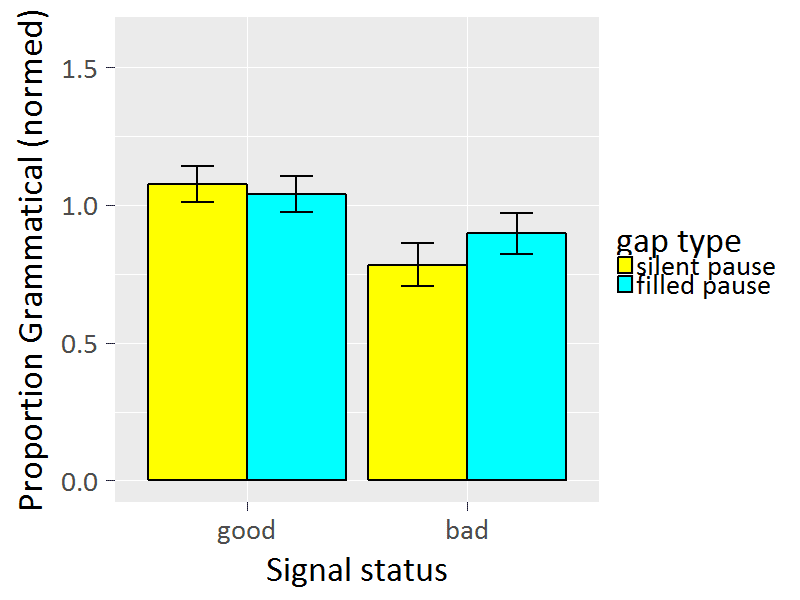 Furthermore, the results also show that native English listeners also were more strongly influenced by silent than filled pauses. When the pause was in a non-boundary position, listeners were even more likely to judge the sentence ungrammatical. However, this enhanced effect of silent pauses seemed to hold only with the non-boundary cases. For the boundary cases (i.e., good condition), there was no difference between the silent and filled pauses. I suspect, however, that this is due to a ceiling effect. For the native English listeners, these sentences are all pretty easy to understand, and so the facilitative effect that showed up for nonnative listeners just disappears. This is, in fact, comparable to Bailey and Ferreira's results because they observed no difference between filled pauses at boundary positions and a baseline no-pause condition.
So, the results continue to be in favor of a signalling hypothesis for pauses with silent pauses showing a larger effect than filled pauses. It's also important to note that this result parallels results corpus results I reported a few months ago at the Disfluency in Spontaneous Speech (DiSS) workshop in Stockholm. In that study, I showed that the silent pauses in English speech by native speakers of Japanese may be more closely correlated with problems in discourse planning and syntactic planning. If that's a general observation about second language speakers, then it might be little surprise that when these speakers listen to English speech, they are likely to presume that a silent pause indicates syntactic planning difficulty like that which a speaker may have at a clause boundary. Hence, listeners might infer that a silent pause indicates a current clause boundary and analyze the sentence as such.
Well, there's one final step to this project and that is to test this with one more nonnative listener group: native speakers of Japanese. But that will have to wait until I get back to Japan in April. Patience....
[Note: This post was written in September, 2020. However, in order to preserve the chronology of the blog, it has been dated to reflect when the described events actually took place.]