December 14th, 2017
Pauses signal syntactic structure in Paris, too!
In a recent news post, I explained a project I'm working on to look at the structural signalling effect of pauses. To recap briefly, I'm doing a replication and extension of Bailey and Ferreira's 2003 study in which they showed that when filled pause disfluencies occurred at syntactic non-boundaries, listeners were more likely to judge the sentence ungrammatical, suggesting that they use the filled pauses to make inferences about syntactic structure and therefore misanalyze the structural parse. (See that last post for more detailed background explanation.)
In my project, I am seeking to compare the effect of silent pauses and filled pauses in this same role: Thus, how do each influence the judgments of participants? Further, I am seeking to examine this influence with nonnative listeners. In the last news post, I explained that the results with native speakers of European Portuguese listening in English gave a very clear result. First, like Bailey and Ferreira's native English participants, the Portuguese participants judged the sentences with filled pauses at non-boundary locations as grammatical less often. But interestingly, that difference was more pronounced with silent pauses. That is when a silent pause was placed at a clause boundary (good condition), participants were more even likely to judge it grammatical than with a filled pause, and when placed at a non-boundary (bad condition), they were even less likely to judge it grammatical than with a filled pause.
And that brings me to Paris. Thanks to Ioana Vasilescu at LIMISI CSNRS, I have had the opportunity to carry out the same experiment but with a comparable group of students in Paris (with thanks also to Maria Candea at Université Paris III - Sorbonne Nouvelle). I gave the exact same experiment as that to the Portuguese speakers, and the overall results were identical: the same pattern as described above.
Fig. 1. Results (n=30): Proportion judged grammatical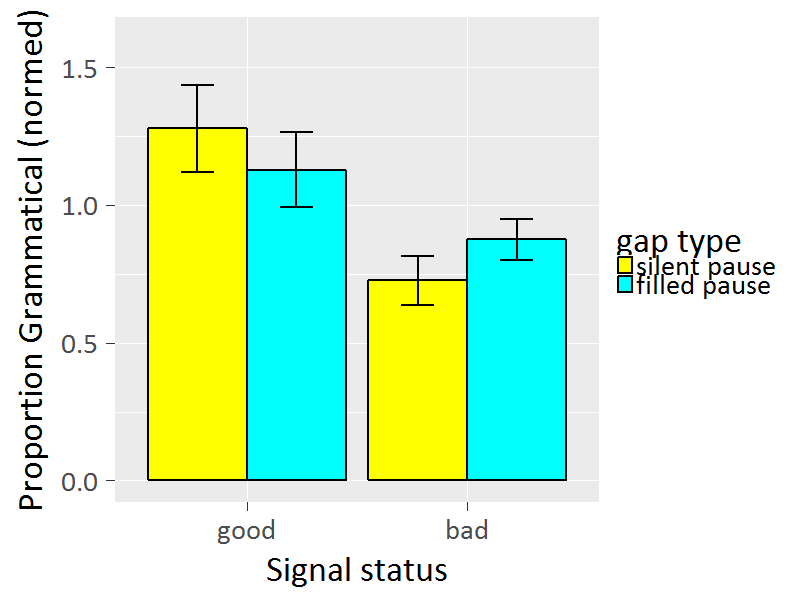 However, one small footnote on the results was that the difference between the silent and filled pause effects was even larger than that for the Portuguese speakers. In short, there was a greater facilitative effect of silent pauses at boundaries and a greater deleterious effect of them at non-boundaries.
So, the next step is to try this out with native English listeners to make sure that the results replicate Bailey and Ferreira's study with the same language participants. That will be my task next month as I head to the US for a month to run the experiment with a group of native English speakers at a university in Michigan.
[Note: This post was written in September, 2020. However, in order to preserve the chronology of the blog, it has been dated to reflect when the described events actually took place.]