April 30th, 2017
Encountering fluency in Barcelona
April is a great time of year to Barcelona, Spain: The weather is not hot, yet, and there isn't much rain, and most of all it's not a high tourist season. So, when I heard there would be a conference there on language teaching at University of Barcelona, I immediately applied. In fact, this was a two-fer: I joined the Task-based Learning and Teaching (TBLT) conference, held jointly with the English Language Teaching and Research in Action (ELTRIA) workshop.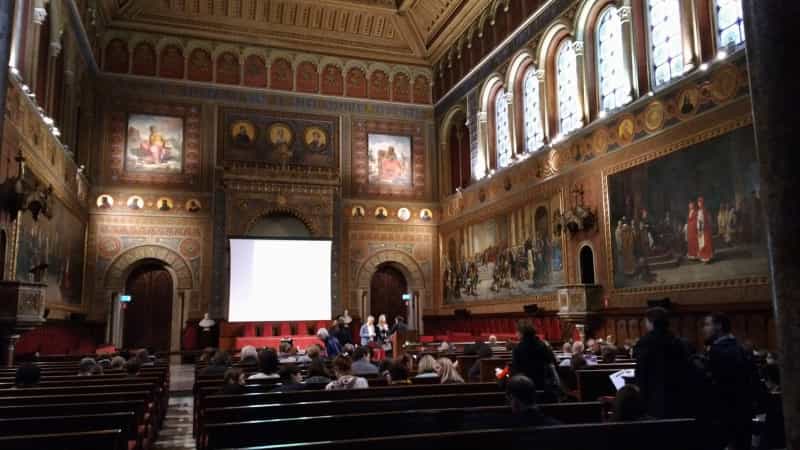 In fact, my own talk (at ELTRIA) had nothing to do with fluency (well, not speech fluency at least) at all. I spoke about a project I've been working on called ADAPS: "Academic Document Annotation and Presentation Schema". It's basically a system for annotating documents in XML so that they can be processed through a number of scripts that make it suitable for a dynamic web-based presentation of the document. Readers can view the documents (mostly articles and texts from academic resources) and click buttons that will highlight things like academic and specialist vocabulary, paragraph structure, and inter-sentence logical relations. It's designed as a teaching tool for academic reading—classes that I teach and coordinate in my university work.
It was a fun conference and I could get a nice audience for my talk who gave some good feedback. However, I found that my title was a bit confusing to some:
Solving the challenge of locating, preparing, displaying, and reusing academic reading texts for learners with ADAPS
It seems that some people presumed that ADAPS was the acronym for some kind of learning disability. So, I had to correct that misunderstanding at the outset.
Besides that, I had a chance to hear several good talks. I was impressed by one talk by Craig Lambert, Judit Kormos, and Sachiko Nakao entitled "The Speech Processing Demands of L2 Tasks and the Emergence of L2 Speech" on the TBLT slate of events. The work they are doing parallels what I'm studying in terms of looking at the offset relationship between the complexity of a second language learner's conceptualization and their realized speech fluency. They observed that as learners try to use more abstract lexical terms, their fluency decreases.
I also had the chance to get acquainted with Shungo Suzuki, a former student (not mine) from my university who is also working on speech fluency and is currently a student of Judit Kormos, who is of course well-known in the fluency/disfluency literature. His talk focused on the necessity of using longitudinal data for examining complexity--accuracy--fluency (CAF) constructs.
At the ELTRIA event, I was also quite impressed with a workshop by Sophie Thompson, Emma Marsden, and Luke Plonsky to describe their IRIS digital repository (Instruments used for Research in Second Languages). The project is designed to collect a number of validated gathering instruments or procedures to make it easier for researchers to re-use tried and true (so to speak) instruments for research. This is a great idea and should be of great value not only to new researchers to the field, but also even to experienced ones.
I don't know when I'll have a chance to get back to TBLT and ELTRIA again (probably never as joint event), but this was my first time at each and I was quite pleased and challenged by the thoughtful discussions there.
[Note: This post was written in August, 2020. However, in order to preserve the chronology of the blog, it has been dated to reflect when the described events actually took place.]